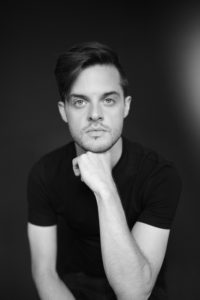 My name is Andrea Caruso and I'm a passionate and curious person who is always evolving. One of the best ways I use to express and share my nature is music.
Originally from Italy, I started playing clarinet when I was 10 years old and continued for 3 years during which I had my first recitals and performances in small chamber ensembles and a marching band (!), until I happened to fall in love with the bass. From that moment on, I focused most of my energy on learning the instrument – electric at the time – by transcribing riffs and bass lines from rock/funk/crossover/metal bands. Pretty soon, as a teenager, I started playing more and more gigs and festivals in south Italy area in many different projects. Those styles of music taught me the importance of the so called "pocket", that sort of grounded, solid but flexible feel that is vital when it comes to bass playing.
Later on in the years I finally understood that yes, I wanted to keep pulling strings, but it had to be the double bass. I was fascinated by the aliveness of it, the fact the somehow it was closer to its initial truth of being a tree and the powerful vibrations that, through its body, were transmitted to my chest, and my soul.
But it had to be the right way – therefore, through tradition. It was then that I decided to start my classical studies at Foggia's conservatory under the guide of an excellent teacher and a wonderful person, Massimiliano Mauthe Von Degerfeld. At the same time I did my bachelor's in jazz music, under the guide of some great Italian artists such as Maurizio Rolli, Luigi Giannatempo  and Sandro Satta, which I finished in 2013 with the highest grade.
I then moved to Groningen, the Netherlands, as an exchange student and I continued my studies with Sorin Orcinschi. At that point I became part of a truly international scene, a beautiful colorful mosaic of cultures and amazing talented people from all around the world. I used to play every day, all day long, with whoever was willing to, and in the most extravagant situations. I would do orchestral projects and gigs, chamber music and then endless jam sessions with the improvisers of the scene.
Those were the days in which I started playing with some of the musicians who then became members of very important projects in my life, like Falga, the duo with Murat Cengiz and il Trio Onirico. At the same time I would go through mind blowing experiences, like touring with a philharmonic orchestra in Asia or taking lessons from the great Catalin Rotaru.
In 2014 I started my Master program at PCC, Groningen, and accordingly to its rules I started a research on contemporary modal jazz, coached by a man whose books changed my life, Ron Miller.
Next year I moved for a semester to New York, where I had the chance to be in touch with its outstanding scene, play some gigs (I had the pleasure to work with the NYU Concert Band as well), and study with John Patitucci, Marc Copland, Phil Markowitz, Marco Panascia, Johannes Weidenmuller and Matt Brewer.
I now hold a Master Degree in Jazz Performance as double bass player from PCC and I'm expanding internationally as a freelance artist.
I performed music in Italy, the Netherlands, Belgium, Germany, Spain,  Serbia, Switzerland, Lithuania, Romania, China, USA.
I attended lessons and masterclasses with John Patitucci, Catalin Rotaru, Phil Markowitz, Jerry Bergonzi, Franco D'Andrea, Marc Copland, Johannes Weidenmueller, Matt Brewer, Frank Gambale, Alain Caron, Lew Tabackin, J.D. Walter, Joe Locke, Robin Eubanks, Alex Sipiagin, Tineke Postma, Roberto Gatto, Giuseppe Bassi, Vincenzo Maurogiovanni, Marco Panascia, Otmaro Ruiz, Fahir Atakoglu, Horacio Hernandez, John Webber, Jim Rotondi, Billy Harper, Greg Burk, Bruno Tommaso, Luca Santaniello, Jim Rotondi, Mark Sherman.
I shared the stage with, among many, Billy Hart, Gene Jackson, Artur Hnatek, JD Walter, David Berkman, Owen Hart Jr, Tim Armacost, Freddie Bryant, Rembrandt Frerichs, Verneri Pohjola, Oene Van Geel, Tollak Ollestad and Marco Tamburini.
Festivals:
Gargano FilmFest 2010 "Viaggio a Sud", Italy
Corti di Capitanata (Foggia) 2011, Italy
Rodi Jazz Festival 2011, Italy
Festival Delle Serre di Cerisano 2011, Italy
2° Festival Chitarristico "I Colori della Musica" di Celano, Italy
Corti di Capitanata 2012, Italy
Jazz by the Pool 2012 (Padova), Italy
Foggia Musica Festival 2012 (Associazione Culturale Bel Canto), Italy
Amici della Musica di S. Giovanni Rotondo – Stagione Concertistica 2012/2013, Italy
Walk-In Festival Groningen 2014, Netherlands
Novi Sad Jazz Festival 2014, Serbia
"Round Midnight" 2015 in Hannover, Germany
Swingin' Groningen 2016, Netherlands
Montreaux Jazz Festival 50th edition, 2016, Switzerland
Zomer jazzfietstour, 2016, Netherlands
Goois Jazz Festival, 2017, Netherlands
Rabobank Amersfoort Jazz 2017, Netherlands
Swingin' Groningen 2017, Netherlands
Noorderzon Groningen 2017, Netherlands
Ein fest fur alle Hannover 2017, Germany
Guangzhou Jazz Festival 2017, China
Artist in Residence 2018, Bucharest, Romania
Swingin' Groningen 2018, Netherlands
Delft Jazz Festival 2018, Netherlands
Noorderzon 2018, Groningen, Netherlands
Bucharest Jazz Festival 2019, Romania
Jazz in de Gracht 2019, The Hague, Netherlands